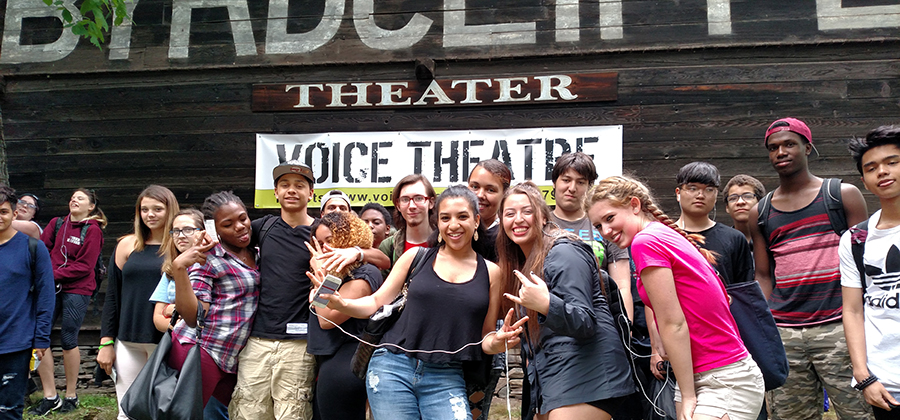 Anti-Bullying in-School Workshops
Belonging and Bullying
2018 dates to be announced soon
Due to the overwhelming success of 73 anti-bullying workshops that Voice Theatre implemented in 2016 and 2017 at 7 Ulster County high schools, principals, students and teachers have requested more. Therefore Voice Theatre is creating unique interactive workshops to combat bullying and examine the refugee crisis with workshops and 3 in-school performances for 10
th
and 11
th
grade students at
Kingston High School, Hudson Valley Pathways Academy
and
Boces Special Education Alternative High Schools.
Voice Theatre will also conduct workshops with unaccompanied children waiting to be united with their parents or families in the United States from The Kingston Home for Children. 200+ core students will be directly affected with over 400 students attending 3 school performances. Half of our core student population are special needs students. Workshop and performance dates will be announced soon.
Students will explore the theme of "home and belonging". Utilizing theatre games and journal writing students will write monologues examining their experiences of what "home and belonging" means to them. Aligned to Common Core Curriculum Standards students will explore their original writing through improvisation, role-playing, mirroring and the Spoken Arts.
Emphasis will be on collaboration, original ideas, teamwork and constructive feedback. We will survey the history of chosen countries to learn more about why our young refugees have left their countries. Adult speakers representing our young refugees will speak telling their stories of how and why they have come to the US.
In three school performances refugees and US students, their teachers and the professional actors of Voice Theatre will present the students' original writing.
Our goal is to reduce bullying and for all students to see each other as individuals rather than just "refugees" or "Americans" or the "other". To develop the skills of listening, empathy and respect for differing viewpoints as students' share their ideas and monologues, widening and contributing to everyone's experience, thus combating the growing threat of bullying, stereotyping and the scapegoat, which are all too pervasive in our culture.
Since much of the material for the workshop will be generated from the student's own experiences it is our sincere hope that these workshops will have a lasting impact on all our students and teachers as they navigate the difficult definitions, boundaries and borders of the future and what it will mean to be an American.
Synopsis
Session I
Students meet with Shauna Kanter to explore the themes of bullying: "the role of the other" and "the role of the perpetrator". We will explore the theme of "home" and build conflict resolution skills. An introduction of participating refugee countries will be presented.
Sessions II, III, IV, V, VI
Voice Theatre's Teaching Artists will implement improvisation, role-playing, and mirroring as students write monologues based on their own experiences of home and bullying. Selected monologues are improvised and read out-loud by students. Students read and improvise refugee monologues out-loud.
Session VII
Students and the professional actors from the Voice Theatre ensemble rehearse the Presentation.
Presentation
Students and actors perform in a student matinee at three high schools.
Session VIII
Students share how this experience has informed and touched their lives'. Students and teachers fill out final questionnaires for the Final Report on the project. Food will be served representing each country.
Outcomes / Results / Impacts
Our goal is for students to learn how to recognize the bullying, intolerance and discrimination and use tools experienced in the workshops to identify and disengage from the stereotype and the bully. It is our hope that the personal experiences shared will have a meaningful impact in shaping the lives of all refugee and US citizen participants.