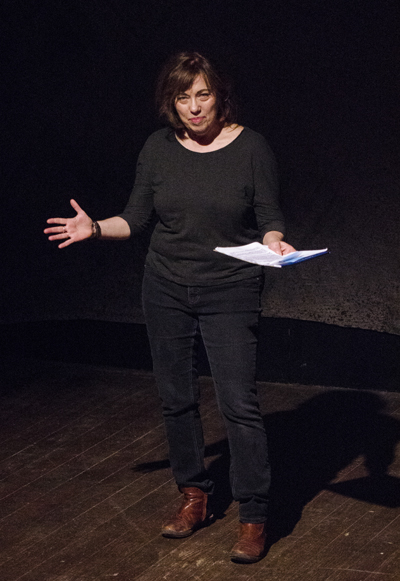 Shauna Kanter
Voice Theatre Artistic Director
Twice shortlisted as a Fulbright Scholar and in 2008 awarded The People's Choice Award at JET Theatre in Detroit for Best Director of Women's Minyan. Recently featured in Stage Warriors by Sarah Imes, interviews with 12 international directors. Shauna Kanter's Off- Broadway directing includes the award-winning play Retzach at 59E59 Theatre and Pushing Through, (written and directed), featured on National Public Radio's Weekend Edition at LA MAMA; Gaza Monologues, United Nations and LA MAMA. International directing includes: Pushing Though, The Arches Theatre, Glasgow and Theatre Workshop, Edinburgh; Legacy, (written and directed), The Bristol Old Vic, Bristol, UK; The Klecks Theatre, Hanover, Germany; Olympia Theatre, Bordeaux, France and the Cockpit Theatre, London. Warriors of Fate, (written and directed), Tel Aviv, Israel and Ramallah, Palestine; The Most Dangerous Time in Life, Expo 2000 Hanover, Germany; Brecht on Brecht, Ashtar Theatre, Palestine; Family Cycles, Espace de la Grace, Paris.
In London, Sweet Love Remembered, for The Globe Theatre; Loveplay, Battersea Arts Centre; The Skin of Our Teeth and You Can't Take it With You, Simmonds Theatre; After the Fall, The Children's Hour, Orpheus Descending at Mountview Theatre.
U.K. Regional directing, she has directed Confusions and Vodka Pancakes and Opium for the Bristol Old Vic Studio Theatre and The Achievement, Chapter Arts Centre, Cardiff, Wales.
U.S. Regional directing, The Homecoming Project, (written and directed), The Columbia Festival of the Arts, Maryland; Sleuth and Women's Minyan, JET Theatre, Detroit Michigan; Measure For Measure, Abilene Shakespeare Festival; Two Gentlemen from Verona, Woodstock Shakespeare Festival; Don't Dress for Dinner, Woodstock Playhouse, Robert Lloyd's one man show Up Centre Between, KO Festival, Amherst, MA, Goiter on Rye, (written and directed), Louisiana Tech, Master Class, Phoenicia International Festival of the Voice. For Voice Theatre at the Byrdcliffe Theatre, Woodstock, NY she has directed Lovers, Birds on a Wire, (written and directed), Hay Fever, Season's Greetings, Our Country's Good, End Days, The Skin of Our Teeth and All My Sons.
Off–Off Broadway directing credits include: The Laramie Project, Mamet Miller Dreaming, Loft Theatre; Our Country's Good, CSV Cultural Center and Byrdcliffe Theater, Woodstock, NY.
In the U.K. Shauna has taught acting and voice in the professional theatre training programs of Mountview Theatre Academy, Middlesex University and the Bristol Old Vic Theatre School; and in Berlin, the West Bank, Paris, Graz, Austria and Poznan, Poland. In the U.S. at The Stella Adler Conservatory, NYU School of the Arts, The New Actors Workshop, T. Schreiber Studio and Hardin Simmons University. She has been a guest director at Williams College, Bowdoin College, Louisiana Tech and Queen Margaret College, Edinburgh. Autumn 2015 she returned as a guest lecturer at Williams College. She serves as a Mentor for the New York Foundation for the Arts.