Written and directed by Shauna Kanter
Legacy is a haunting music theatre piece based on a true story of one young American man's cowardice and courage as he rescues a Jewish family out of Berlin in 1939. Using false papers David travels to Berlin in order to rescue Vera and her two daughters. Vera has been placed on a Nazi hit list. Legacy is a thrilling, suspenseful tale of escape and rescue illustrating the courage of the German and American people as we see that one person can make a difference. Floor to ceiling archival photos, live original Klezmer music and the uniquely stylized ensemble techniques of Voice Theatre heighten the experience of Legacy.
This European Commission award-winning music theatre piece is presented in coordination with The Legacy Project: interactive workshops that immerse diverse inner-city high school students with professional actors to collaborate bringing and immediacy to the play, Legacy. The Legacy Project workshops may focus on conflict resolution, performance, creative writing, visual arts and publications.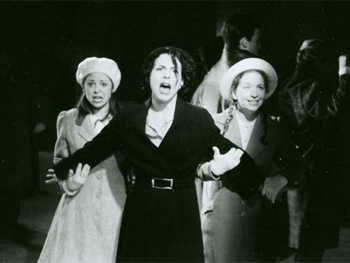 Capacity: 100-1,500
Stage: proscenium / thrust
Personnel: 20 + student voice movement ensemble
Premiere: Bristol Old Vic, Bristol, UK, 1995. German and French tour followed sponsored by the European Commission, 1997. In 1998, Legacy transferred to sold-out houses and rave reviews to London's Cockpit Theatre. In 2003 Legacy opened at the T. Schreiber Studio in New York City, (T. Schreiber title only, The Gift). In 2011 Legacy was produced at the Bermann Center for the Arts, West Bloomfield, MI.
Tech Rider available upon request.