Voice Theatre's 2017 Season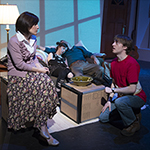 ADULT Acting Workshops – Tuesday evenings 6-9pm
Technique / Scene Study focuses on the craft and art of acting. We will examine what it means to authentically risk from your soul bringing your individuality, life experiences and knowledge to a character. How does an actor become an athlete of the heart and the bearer of great truths. We will look at how an actor trusts their instincts enabling them to share the uniqueness of their story informing a character. Focus on character, rehearsal techniques, given circumstance and actor's creativity.
Performance in the Spring of 2017 at the newly renovated Colony, Woodstock, NY.
---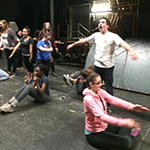 Anti-Bullying Workshops
Four Ulster County High Schools in partnership with the Kingston Home for Children
Belonging and Bullying examines the refugee crisis and bullying.
10/24/16 – 4/24/17


---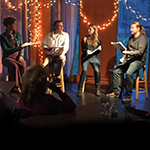 4th Annual Spring Reading Series
Thursday evenings at 7pm: May 4, 11 & 18

New World Home Cooking, Saugerties, NY
May 4th FINKS, May 11th LUNGS, May 18th IT WILL ALL WORK OUT

---
Main Stage Production – Byrdcliffe Theater, Woodstock
July 6-23, 2017
Thornton Wilder's THE SKIN OF OUR TEETH
Thursdays – Saturdays 7:30pm
Sundays 2pm
---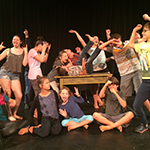 Summer Youth Workshops
July 10-16, 2017
Byrdcliffe Theater, Woodstock
July 10-16
Two age groups

---
VOICE THEATRE'S 2018 ANNOUNCEMENTS
5th Annual Spring Reading Series
Thursday evenings at 7pm — New World Home Cooking, Saugerties, NY
MAY 3
Shadow Child by Myra Slotnick
directed by Maryanne DiPalma
MAY 10
The Birth Experiment written and directed by Wally Carbonne
MAY 17
Quittin' by Domenick V. Danza
directed by Geneva Turner
---
Main Stage Production – Byrdcliffe Theater, Woodstock
ALL MY SONS
by Arthur Miller
Directed by Shauna Kanter
JULY 12-29
---
Summer Youth Workshops
Byrdcliffe Theater, Woodstock
Two age groups
JULY 16-22
---