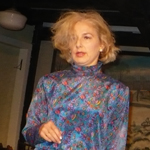 SEASON'S GREETINGS
Written by Alan Ayckbourn
Directed by Shauna Kanter
Creekside Pub Theatre, Woodstock, NY
~A sight-specific production of a delicious holiday romp of lunacy, fun and dysfunctional family celebrations.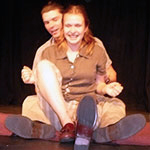 LOVERS: WINNERS
Written by Brian Friel
Directed by Shauna Kanter
Phoenicia International Festival of the Voice, Phoenicia, NY; Byrdcliffe Theater, Woodstock, NY
~Set on a hillside overlooking their Irish village two young lovers, on the precipice of marriage, unknowingly spend their one last day together.  Watch video highlights from Lovers: Winners.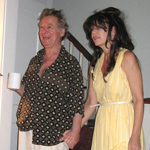 HAY FEVER
Written by Noel Coward
Directed by Shauna Kanter
Woodstock, NY
~This ground-breaking, sight-specific production was presented in a living room in a country house in Woodstock, NY.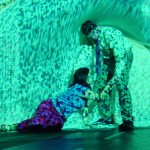 RETZACH
Written by Hanoch Levin
Directed by Shauna Kanter
59E59 Theatres, NYC
~Voice Theatre's uniquely stylized physical and vocal ensemble brought a distinct vision to this powerful universal story of revenge and murder.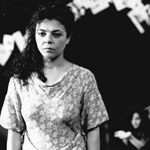 PUSHING THROUGH
Written and Directed by Shauna Kanter
La Mama, NYC; Arches Theatre, Glasgow, Scotland; Theatre Workshop Edinburgh, Scotland; Columbia Festival of the Arts, Columbia, MD
~The ground breaking music theatre piece that brought together Palestinian and Israeli actors appearing on the same stage for the first time ever.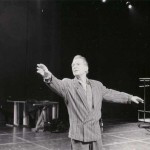 UP CENTRE BETWEEN
Written by Robert Langdon Lloyd
Directed by Shauna Kanter
KO Festival of the Arts, Amherst, MA
~A one person show about an out of work actor creating a show for the fictitious Princess Maria-Grizelda Droutskoi and 100 of her closest friends in less than 24 hours.
Additional Voice Theatre Productions
The Homecoming Project, a music theatre piece about an American developer who attempts to carve up a rural Scottish town entirely for profit. The themes of greed versus community were extremely potent in Columbia, Maryland – a planned and developed community; where the play was co-produced with the Columbia Festival of the Arts. The play was performed by an international cast and forty residents of Columbia.
Voice Theatre partnered with the Peres Centre for Peace, Tel Aviv, Israel and the Palestinian Regional Authority, Palestine to produce Warriors of Fate with actors from Palestine and Israel; performances took place in Palestine and Israel.
The Off–Off Broadway production of Our Country's Good by Timberlake Wertenbaker at the CSV Cultural Center. The play is the story of convicts and British Royal Marines sent to Australia in the late 1780s as part of the first penal colony where they courageously created a play.
A Off-Off Broadway production of The Laramie Project at the Barrow Group Theater. The audience acted as witnesses in Voice Theatre's promenade production which took place in this site specific space before it was the Barrow Group Theater.
TIMELINE of main stage Voice Theatre performances
2016
End Days
  — Byrdcliffe Theater, Woodstock, NY
2015
Our Country's Good
  — Byrdcliffe Theater, Woodstock, NY
2014
Birds on a Wire
  — Byrdcliffe Theater, Woodstock, NY
  — Sanctuary Arts Initiative, New York City
2013
Master Class
  — Phoenicia International Festival of the Voice, Phoenicia, NY
2012
Season's Greetings
  — Creekside Grill Theatre, Woodstock, NY
Lovers: Winners
  — Phoenicia International Festival of the Voice, Phoenicia, NY
  — Byrdcliffe Theater, Byrdcliffe Festival, Woodstock, NY
2011
Gaza Monologues
  — United Nations & LA MAMA, NYC
Legacy
  — Berman Center for the Arts, West Bloomfield, Detroit, MI
Hay Fever
  — Sight Specific Production, Woodstock, NY
2010
Birds on a Wire
  — Rattlestick Playwrights Theater, Off-Broadway, NYC
2006
Retzach
  — 59E59 Theaters, Off-Broadway, NYC
Our Country's Good
  — La Tea Theatre, CSV Cultural Center, NYC
2004
Mamet Miller Dreaming
  — The Loft Theater, The Theater Building, NYC
2003
The Laramie Project
  — The Loft Theater, The Theater Building, NYC
Legacy (The Gift)
  — T. Schreiber Studio, NYC
1999
Warriors of Fate
  — Ashtar Theatre, Ramallah, Palestine
  — Ilana Goor Museum, Tel Aviv, Israel
1998
Legacy
  — Cockpit Theatre, London, UK
1997
Legacy
  — Musee de Resistance, Bordeaux, France
  — Olympia Theatre, Bordeaux, France
  — Salle des Fete, Libourn, France
  — Klecks Theater, Hannover, Germany
1996
Loveplay:
  — Shepard Festival, Battersea Arts Centre, London, UK
1995
Legacy
  — Bristol Old Vic Theatre, Bristol, UK
1993
Pushing Through
  — Carver Center for the Arts, San Antonio, TX
The Homecoming Project
  — Columbia Festival of the Arts, Columbia, MD
1992
The Homecoming Project
  — Circum Arts, NYC
1991
Pushing Through
  — Theatre Workshop, Edinburgh, Scotland
  — Aberdeen Alternative Festival, Aberdeen, Scotland
  — Cumbernauld Theatre, Cumbernauld, Scotland
  — Columbia Festival of the Arts, Columbia, MD
  — HOME (presently Here), NYC
  — Wesleyan University, Middletown, NY
  — Advancement For Judaism, NYC
  — Arab American Cultural Foundation, Washington, DC
  — Unitarian Society, NYC
  — Pyramid Arts Center, Rochester, NY
1990
Pushing Through
  — Unison Arts Center, New Paltz, NY
  — The Glasgow 1990 Festival, Glasgow, Scotland
  — The Village Gate, NYC
1989
Pushing Through
  — LaMama, NYC
  — The Achievement: Chapter Arts Centre, Cardiff, Wales
1988
Family Cycles
  — L' Espace de la Grace, Paris, France