One person can make a difference
Led by Voice Theatre's teaching artists students are asked to write monologues about their personal experiences of exclusion, discrimination and bullying. Selected monologues are integrated into the play and performed by students in Legacy. Students also participate in a number of other disciplines with their work resulting in written historical research, performance, video and visual art. As a result of this process, the students are able to identify with the message of the play: One person can make a difference even in the face of prejudice, intimidation and violence.
THE SCHOOL WORKSHOPS precede the play by 1–2 months and are conducted simultaneously in multiple high schools. Meetings take place during school hours and in several multi-group sessions, with students meeting to share, co-lead and discuss their experiences.
Introduction
All participating students in all high schools meet to share their experiences relating to the themes of the play.
Painting and Drawing Exhibition
Students paint and draw pictures based on the themes of the play entering their work in a contest. All finished artwork is exhibited in the theatre lobby. The contest winner is selected as the cover of the Legacy playbill, poster and postcards.
Creative Writing, Publication and Performance
Students write monologues, focusing on their own experiences of racism, bullying, or any kind of social exclusion in their lives. Selected monologues are then performed by students in all Legacy performances. Up to ten monologues are printed in the Legacy playbill. When possible a survivor visits the classroom.
Research and History
Students research what life was like for German teenagers during 1939, focusing on the rise of antisemitism in Germany. Workshops examine the economic, cultural, political and historical factors that contributed to the rise of the Third Reich and how history often repeats itself. Students compile their research. Selected projects are published in the playbill.
Theatre Rehearsals and Performance
Designated students perform in Legacy alongside the professional actors.
Student Performances and Talk-Backs
Students attend school performances of Legacy and participate in talk-backs.
Wrap Up Session
All students meet one last time to share how The Legacy Project informed and touched their lives'. Printed material produced by students is distributed and videos filmed by students are viewed and discussed.
The Play
The play unravels as a young American girl unearths the true story of her father's cowardice and courage. Based on events from the playwright's life, this suspenseful story of rescue illustrates the best of what America has to offer the world, as we see that one person can make a difference. Floor to ceiling archival photographs, live original Klezmer music and the uniquely stylized ensemble techniques of Voice Theatre heighten the experience of Legacy, which played to sold-out audiences in London, Edinburgh, Bordeaux, and Germany.
Schools that have participated in The Legacy Project:
New York City: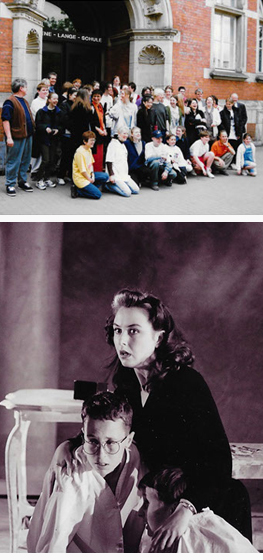 Seward Park High School, 10th grade
Washington Irving High School, 12th grade
Bayard Ruston High School for the Humanities, 10th grade
Chelsea High School, 10th grade
University Neighborhood High School, 9th grade
The T. Schreiber Studio, professional
Detroit Inner City:
Western International High School, 11th grade
Cass Technical High School, 11th grade
Mumford High School, 11th grade
North Farmington High School, 11th grade
Renaissance High School, 11th grade
United Kingdom:
Hartcliffe High School, Bristol, England, 10th grade
Bristol Old Vic Theatre School, Bristol, England, college level
City & Westminster College, London, England ,college level
Middlesex University, Cockfosters, London, England, college level
Queen Margaret College, Edinburgh, Scotland, college level
Syracuse University, USA in London, England, college level
France:
Georges Lapierre High School, Bordeaux, 10th grade
Germany:
Helena Lange Schule, Hannover, 11th grade