2020 Spring Reading Series Canceled due to Covid-19
---
6th Annual Spring Reading Series 2019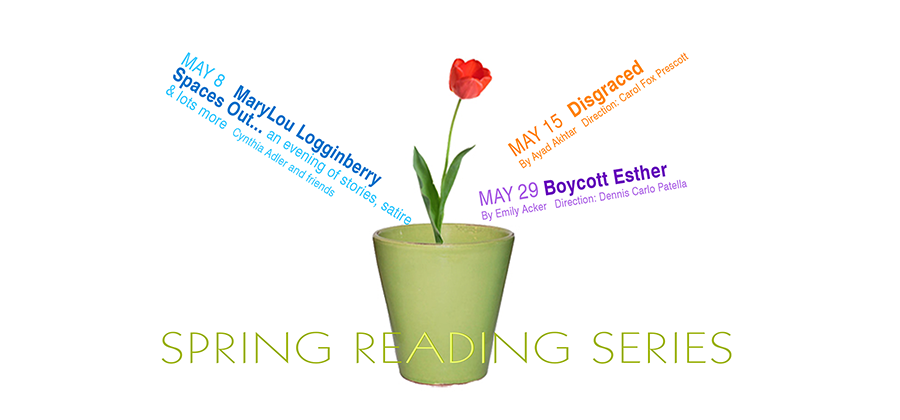 MAY 8th, 15th, & 29th 2019
At the School for Young Artists, Woodstock, NY
Tickets: $12. Reservations: 917 494 6273
May 8th 2019 @ 7:30pm
MaryLou Logginberry Spaces Out
an evening of stories, satire & lots more…
Cynthia Adler and friends
"An evening with Cynthia Adler? I'd like to spend the whole night" — Robert Altman, director
Satirical, witty and surprising. Stories about women who have started out in one place, and ended up in another.
---
May 15th 2019 @ 7:30pm
Disgraced


By Ayad Akhtar
Direction: Carol Fox Prescott
From its stunning Broadway run "Smart… surprising…shocking" – New York Times
The successful New York lawyer Amir enjoys a comfortable life with his American wife, a talented artist influenced by Islamic imagery. But when his Muslim heritage is questioned, his life begins to unravel and a celebratory dinner with friends leads to surprising actions of prejudice, identity and faith.
---
May 29th 2019 @ 7:30pm
Boycott Esther


By Emily Acker
Direction: Dennis Carlo Patella
New play. In an urgent response to the #metoo movement, Boycott Esther chronicles the aftermath of a young woman's career after her boss, a Hollywood mogul, becomes enmeshed in a workplace sexual misconduct scandal. In a world where information is spread and opinions are formed in the click of a mouse, what is our collective capacity for forgiveness?